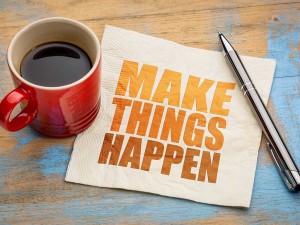 The role of general counsel is a coveted position for which many lawyers strive.. But the path to the GC seat varies greatly. While some highly successful general counsel cut their teeth in big law firms, others landed junior level in-house positions straight out of law school—and there are many other paths as well.
While there is no clear, defined career path to follow that will ensure lawyers with their sights on the top legal seat of a big company lands it, there are steps they can take and skill sets they can gain that will set them up for success.
Each year, we interview successful senior in-house counsel about their lives and careers, and we ask them what advice they would give a young lawyer who would like to become a GC someday. Last year, our GCs offered such great insights as develop emotional intelligence, do the work you love, and simply listen. Here's a roundup of the suggestions our 2017 GC profile participants had for aspiring senior in-house counsel: 
1. Set your sights on your goals and plan long in advance.
"Think ahead in five to 10 year increments about where you want to be and how you get to that spot. Think about what skill sets those positions require and what skill sets you need to acquire." — Matt Revord,  Chief Legal Officer at Potbelly Sandwich Works
Revord also makes the observation that many legal department leaders in public companies have corporate, securities and M&A backgrounds and advises any young lawyer who wants to be a GC to acquire experience and develop expertise in those areas.
2. Develop strong business skills.
"You can be a great lawyer and draft a beautiful contract, but if the business people don't understand it, it doesn't matter." — Talita Ramos Erickson, General Counsel, America at Barilla America
Erickson received this advice from her former boss, the GC of Kraft, and took it so seriously, she decided to go to school part-time while working as in-house counsel to obtain her MBA, specifically so she would be able to effectively understand and communicate with the business side. She said having advanced business knowledge helps her allocate priorities—so the businesspeople don't have to do it for her.
3. Seek out the knowledge and skills you don't acquire in law school.
"The things we most lack, as lawyers in our professional training and experience, is any real concept in managing people and functions. We also lack the lexicon of business. If you're in-house you can't expect them to understand you, you need to understand them. They don't teach us that in law school or law firms." — Jeff Carr, General Counsel at Univar
Carr recommends young lawyers read books such as "Who Moved My Cheese" by Spencer Johnson and watch movies like Moneyball to gain some of these insights. He challenges in-house counsel to figure out how to become managers and executives instead of a lawyer.
4. Always be hungry to learn more.
"You cannot be satisfied with where you are. You constantly have to be hungry for learning new and exciting things about the law. Understanding that, if you are an employment lawyer, what are the contract lawyers doing, for example. And if you're a contract lawyer, understand what the employment lawyer is doing." — Jason Brown, General Counsel at Dyson
Brown says anyone interested in being an in-house lawyer should be constantly gaining experience that allows them to be effective in their position. He says they should move between various groups and focus on growing their paths to achieve that desired role as GC.